A compost heap is an indispensable part of any kitchen garden.  A place to store manure too, they cost next to nothing to make.
I make my compost bins using fence posts, timber baton and boards, old plastic coated wire netting or old palates and old wool carpet.
The only real cost are the fence posts which form the framework of the compost bins and some 50mm x 50mm treated timber for bracing the structure  Add a few 75mm or 80mm galvanised nails to hold everything together, some 30mm galvanised felt nails to hold the carpet in place and you have everything you need to make magnificent bins.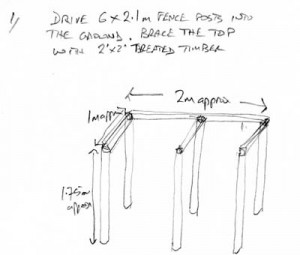 The reason to have two bins is so that when the first bin is full you can turn all the compost into the second bin which aerates the contents and gives everything a good mix. Whilst this lot continues to rot down you can start filling the first bin again.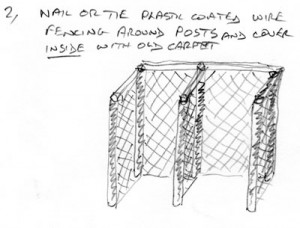 Instead of using plastic coated wire netting I also make my bins sides with old wooden palates easily got free from builders.  I like to make the fronts of the bins using old floor or scaffolding boards.  An alternative is to buy treated 200mm x 25mm board from a local timber yard.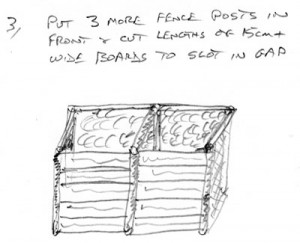 The front can also be made out of a couple of palates covered in carpet.  In this case you have to remove the entire front to get out the compost.  And finally, once you have started making your own compost you might want to add farmyard manure in the spring and allow it to rot well down for use the following winter.  I like to stack manure for at least nine months so I have added a third bin at the top of my allotment.