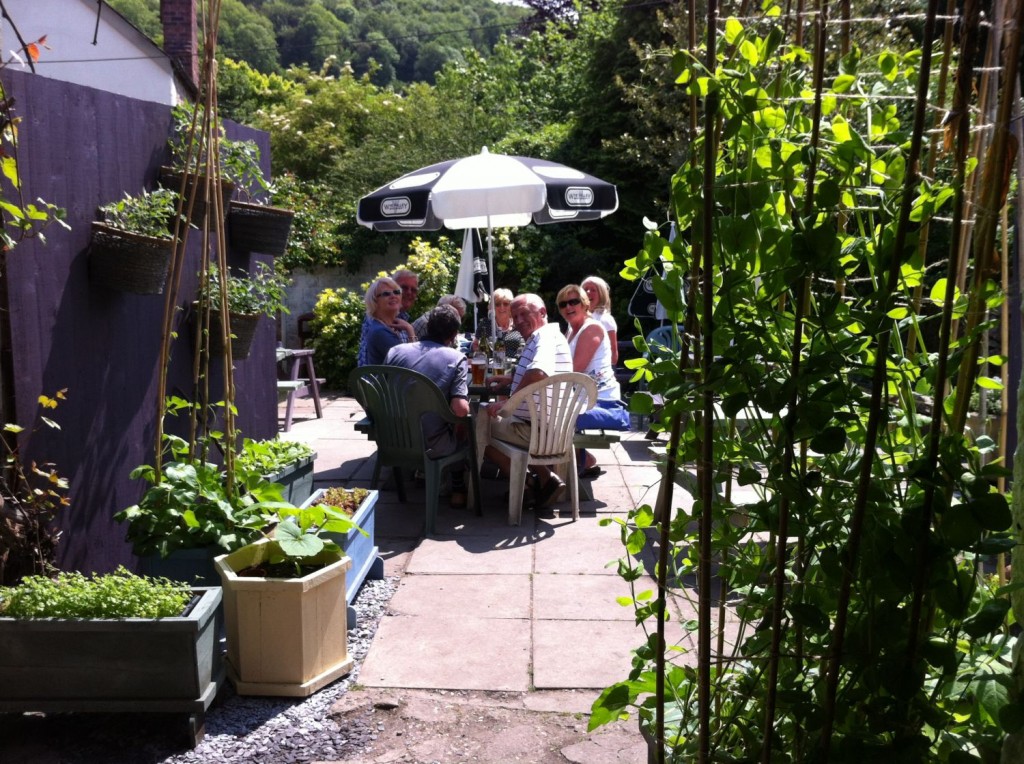 Nikki and Will, the landlady and landlord of this most convivial watering hole and eatery in the lower Wye valley asked me if I would like to help them create an edible pub garden. They had acquired the property in mid-winter. The pub itself and the garden had suffered much neglect which we are now, slowly attempting to put right.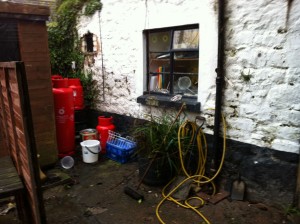 The garden had been completely untouched for many years. Oriented NE/SW the boundary walls were covered in a tangle of clematis, roses and a beautiful camelia. The first thing to do was to cut back all the shrubs and climbers just to see what was hidden behind them! The camelia was allowed to flower.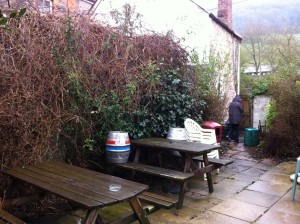 My wife Julia took control of clearing and reconfiguring the borders. I wanted to see the garden filled with planters and hanging baskets full of a variety of suitable herbs and vegetables. I commissioned some simple trough planters and six-sided tubs as well as a large theatre for herbs. The troughs will be sown with cut-and-come lettuce, rocket, French beans, radish, Italian parsley and spinach. I started to sow seed in late February with the intention of creating successional sowings to give a crop throught the summer and autumn. As crops are eaten I will replace the troughs. Cut-and-come lettuce will be allowed to re-grow before being returned to the garden.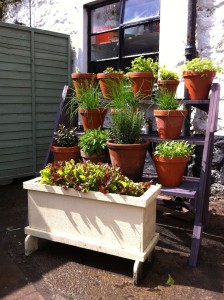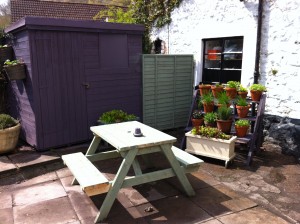 Nikki and Will have been busy painting the benches and tables in bright colours and the planters are painted similarly. The hanging baskets are substantial to ensure I can grow good sized plants. At present I have two filled with trailing strawberries. Mascotca trailing tomatoes and Yellow Tumbling Tom tomatoes will follow along with chillies. Beans, courgettes and cucmbers are awaiting warmer weather before being introduced to this thoroughly edible garden.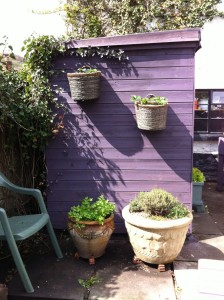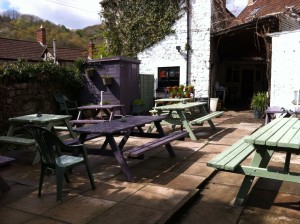 By late May the main planting and all the pots are now in position and everything is growing very well through a sustained warm period of weather.