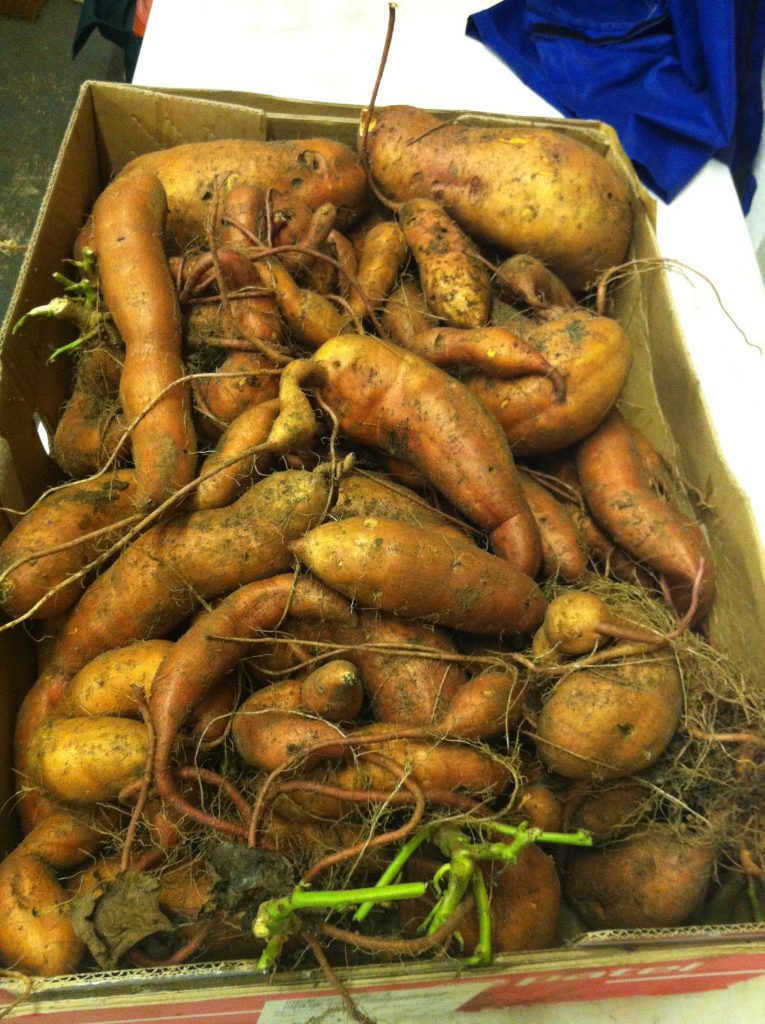 I have had some success growing sweet potatoes through black polythene in a polytunnel. Last year I found mice also liked my crop and I had to remove a number of very lovely nests and badly nibbled tubers. But even in April I have some of last year's crop to finish eating. Sweet potatoes are magnificent keepers if they are cured properly after harvest. To do this I put them in trays in the airing cupboard for about ten days!
For reasons I do not understand other than profit, buying sweet potato 'slips' for planting up in May can set you back a small fortune – at least £1.50 per plant. so, I prefer to grow my own slips using some of last year's crop. Avoid trying with commercial tubers as these are often treated with a sprouting suppressant and, unless grown in the UK, can struggle in our climate.  There are many modern cultivars of variable quality sold by seed companies.  Beauregard is my favourite with a deliciously sweet orange flesh. Last year I dug just over 20 kilos from six plants.

In late February either fill a large plastic container or a polythene bag with damp sand, put it in a cardboard box to keep its shape and bury two or three medium-sized tubers about two inches deep. Put the box in the airing cupboard if you have one, otherwise the warmest place in your home – I use a cupboard above the stove – as sweet potatoes need a temperature of at least 22 degrees to sprout.  Check regularly.and after three or four weeks the first sprouts will emerge.  Make sure sure the sand doesn't dry out. At first a few fibrous roots can appear on the surface but then the first shoots stuck their noses up and now the tubers need to be moved to the sunniest part of your home.  If this gets cool in the evening move the plants at night to a warm place., although any warm spot in the house is fine.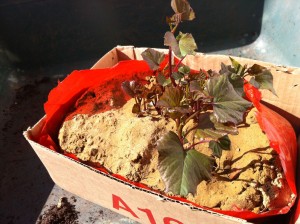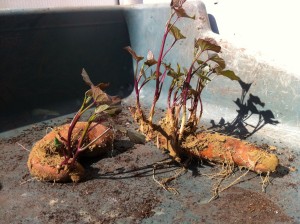 Towards the end of March lift the tubers and select the longest and strongest shoots which should be removed from the mother tuber.  I like to leave a small amount of tuber on the slip as it provides nourishment whilst the slips are starting to establish.  If there is good evidence of young roots growing from the stems, plant the slips up to their first leaves in potting compost mixed with some sharp sand. Alternatively put the slips in a jar of water so most of the stems are covered  and after a few days roots will appear.  These slips can then be potted on.  I like to keep the plants on a sunny windowsill in the house for a week or so because the night temperature is greater than my greenhouse.   The slips in the following image are of another purple-skinned variety I was given which are native to the Atacama desert in Chile.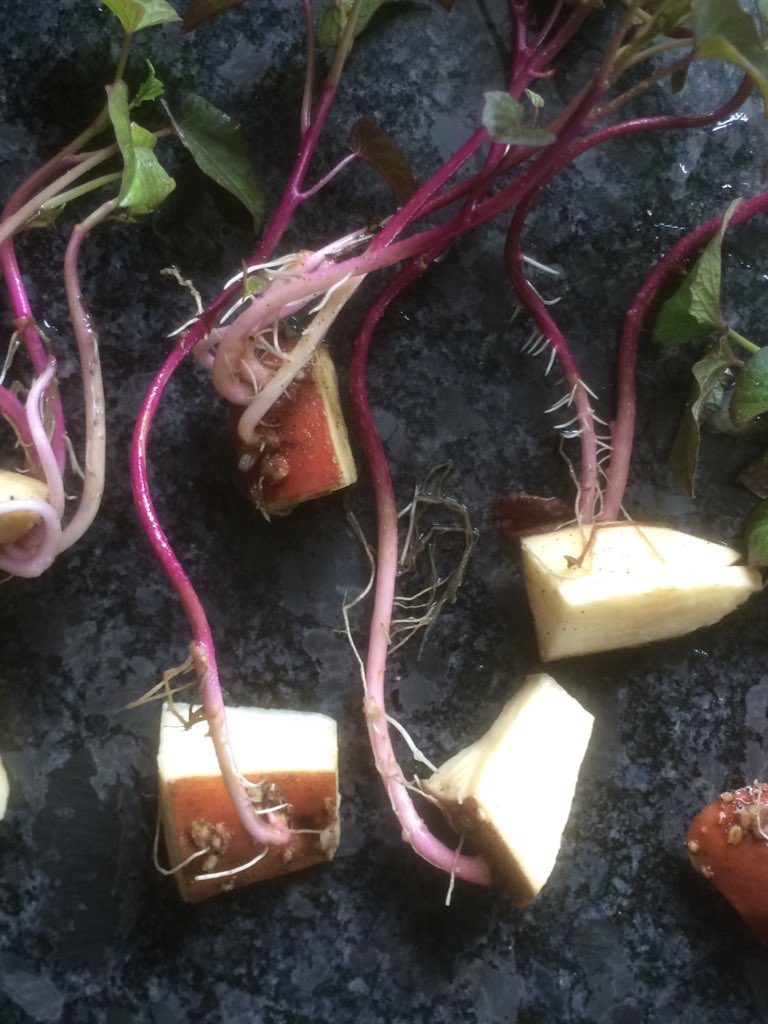 By mid April the plants are ready to grow on in my greenhouse where they should stay until mid May when I plant them through polythene in a polytunnel about 30 cms. apart.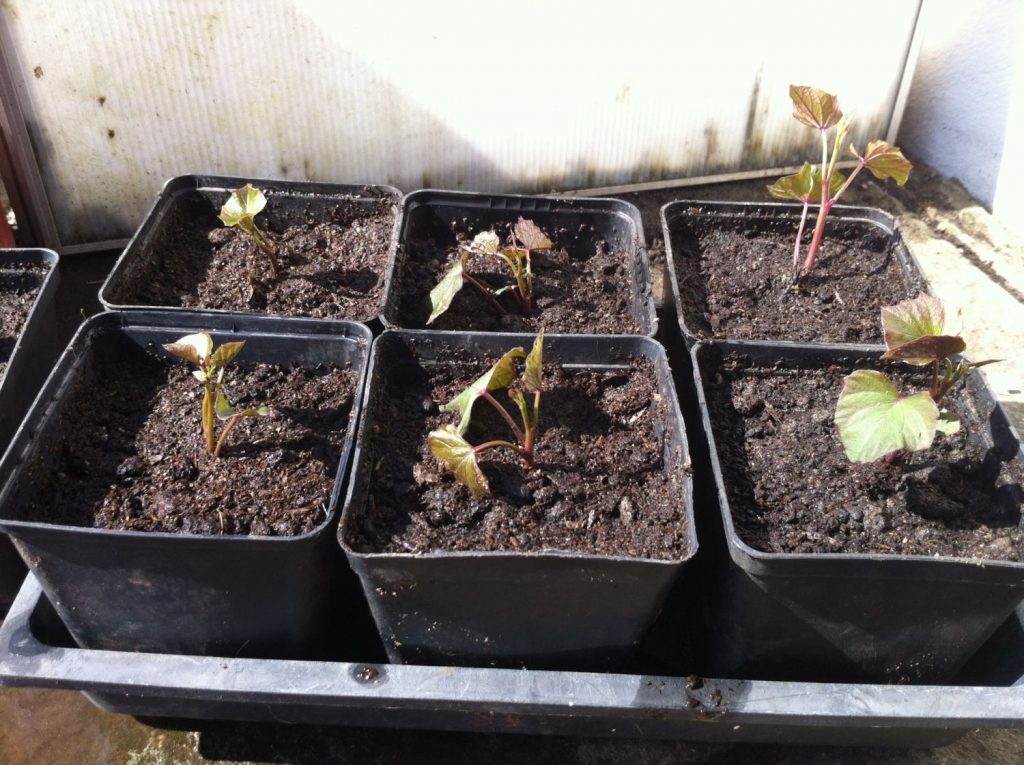 It is important not to plant out to early as sweet potatoes do not like cool weather!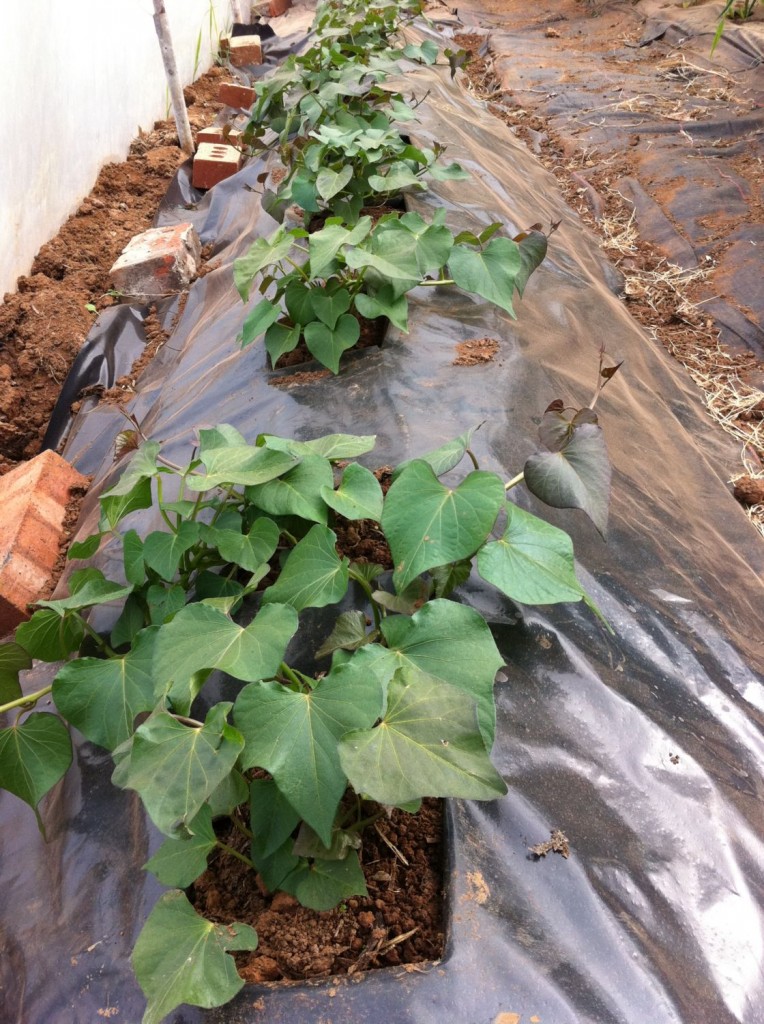 Sweet potatoes plants will grow to a huge size so be prepared to create a jungle!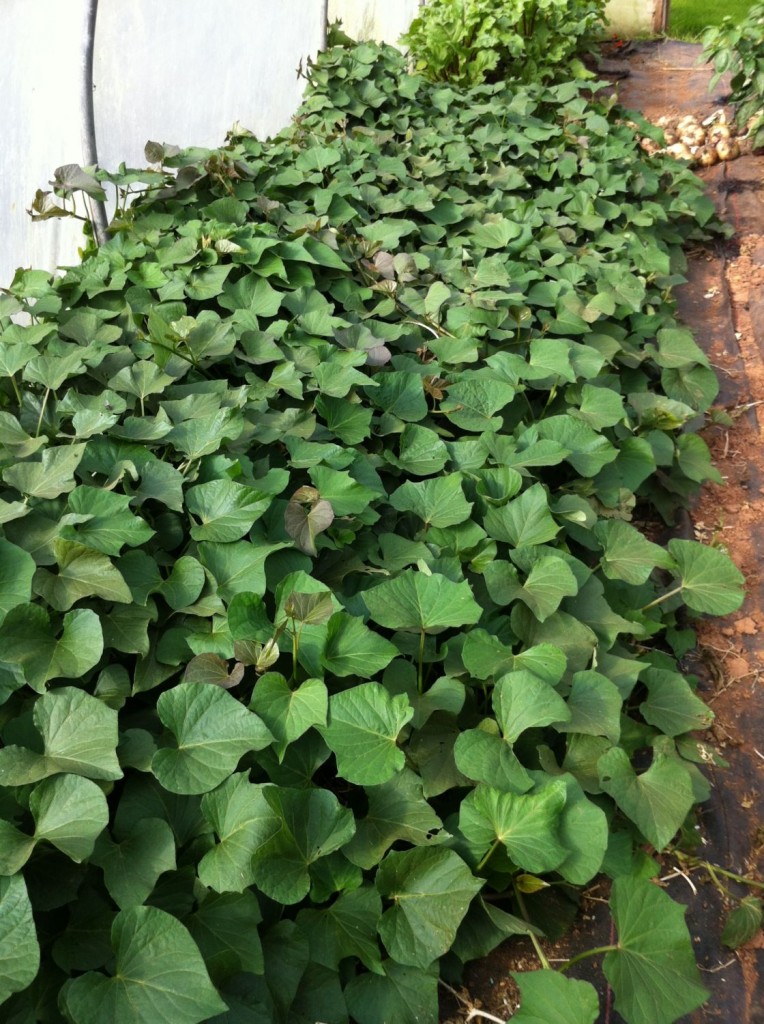 I have also grown them in a cloche with good results.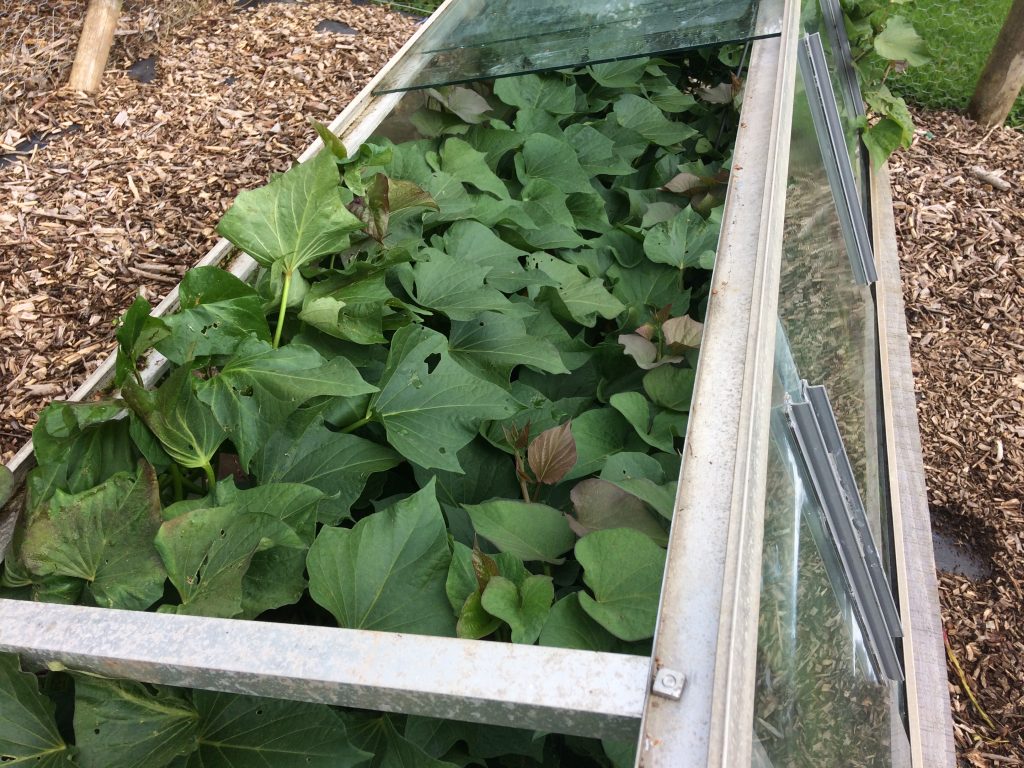 They should be ready to harvest in late October.  Frost or cold nights will kill off teh haulm.  Collect up the tubers which can grow to a great depth, brush off any soil and spread out in a box to dry and cure.  I leave mine in the boiler house for at least ten days, although an airing cupboard is ideal.  They should stor until April and I find the flavour improves with keeping.