Leeks are one of the hardiest crops you can grow and can provide delicious crops from October to April.
I like to sow leeks thinly in trays in the greenhouse in early March.  When the seedlings are a couple of inches high I put them in to a cold frame to grow on until they are ready for transplanting into their final positions in April.
By late April the young plants, having reached a length of about 20cms or 6 to 8 inches long are ready for transplanting into w ell-prepared bed, manured for a previous crop with added fish, blood and bone organic fertiliser at the rate of a couple of handfuls per square metre.  I make a hole with a dibber a good 15cms deep and drop a plant in to each hole.  I then water the hole and keep the bed well watered thereafter until the young plants are well established.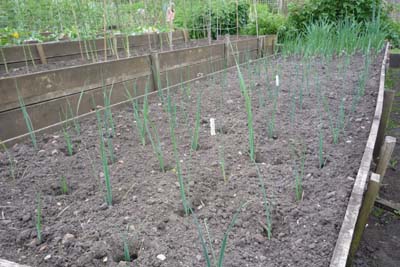 By late May the crop is starting to race ahead.  I always keep a few plants back to fill in any gaps.  This year I am growing three varieties to give me leeks to eat from October to the end of March; Siegfried, Mammoth and Atlanta