A Productive Kitchen Garden is a Thing of Wonder
I love growing fruit and vegetables. I find it a deeply satisfying and rewarding way to spend my time. However, it is all too easy to become overwhelmed by the tasks and work involved in maintaining a plot. I believe it is best to start with a small area which is easily manageable and can survive a certain amount of neglect. There is nothing more dispiriting than returning to your vegetable garden after a few days absence to be faced with a forest of weeds. It is very important though, to be organised and methodical; to practice crop rotation and to keep a record of what, when and where you planted your crops. It is also helpful to keep notes about first harvesting dates, crop failures, good and bad cultivars for your particular garden and a plan of your rotation system.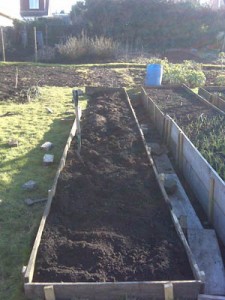 I am a great believer in using raised beds for growing vegetables. There are many advantages to this method of cultivation. Firstly, once the beds have been made one doesn't have to dig the ground again. Once crops are lifted, manure and compost can be laid on the top and roughly turned into the first few inches of soil. No back-breaking fork work. Most importantly, raised beds can be worked on in most weather. Because one doesn't walk on the ground one can sow, weed, harvest when normal gardeners are inhibited by the fact that trampling all over the soil will compact the ground. Raised beds are also easier to maintain. There is less bending and weeding is easier because of the ability to work all round a bed at any time. Raised beds are cheap and easy to make. Sure, you can spend a fortune on ready-made ones, but a trip to your local saw-mill or to a supplier of fencing and garden sheds should yield lengths of treated 15cm board for about £1.50 a metre. Ordinary 2×1 roof batten can be used to hold the boards in place. Old scaffolding boards are ideal too and often cost nothing.
For those of you who have yet to embrace growing your own the rewards of your labour in the kitchen garden will be many. Growing vegetables keeps you fit and gives you the time and space to think, to dream, to escape and to be creative. With an allotment you will become a member of a magnificent band of gentle folk, your fellow gardeners. You will be able to share in the triumphs and failures all gardeners go through. You will be able to draw on a huge fountain of wisdom and experience and soon be able to contribute to others, less experienced than yourself. You will never be short of company when you want it; yet you will be left in peace during those times when solitude and a hoe are all you demand. Yes, gardeners are lovely people. Helpful, generous and kind. So, join the club now and change your life for ever.
To begin with, a kitchen garden is there, first and foremost to furnish the table with delicious goodies. Secondly it is a sanctuary, a shrine, a bolt hole. Thirdly it is a symbol of yourself. A place for others to visit and admire, compare notes. A place to commiserate; a place to inspire.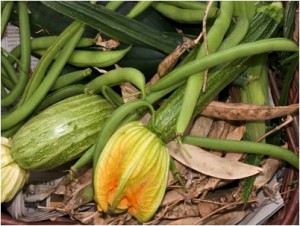 There is much discussion these days about the value of organic gardening. Having spent my formative years living on a bio-dynamic farm and attending a school which eschewed the values of organic horticulture I am a believer. But not because I think eating organic food is necessarily better for you. Growing organically is a lot cheaper than using chemicals and a good organic garden will have a greater bio-diversity. Growing your food organically means you will save more money too because buying organic veg is costly. Regardless of what method you wish to follow, the most important benefit of growing your won is the freshness of the produce. Pulling a young carrot in May, wiping it clean on the back of your trousers and taking a bite. That's pure bliss. I don't care how fresh the stuff at the greengrocer's is, or how organic; it will NEVER taste as good as your own produce. And the fresher it is the more nutritious it is too.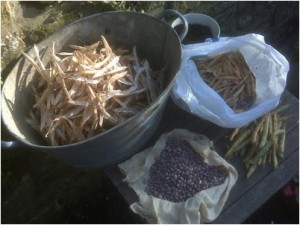 The most important part of your kitchen garden or allotment is the soil. Without good soil, rich in nutrients and of a friable texture with high organic content and moisture retention you are frankly, buggered.  Certainly limited in what you can grow. So, look after your soil; feed it, nurture it and love it.